England and Wales will host the 12th edition of International Cricket Council (ICC) Cricket World Cup, which starts with England-South Africa match today (Thursday) and ends with the final at Lord's on July 14.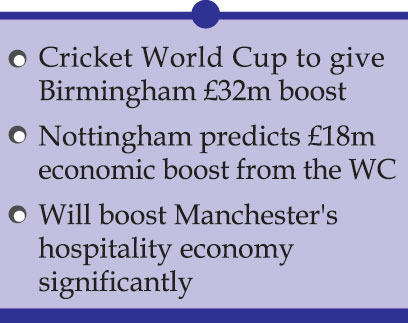 The hosting rights were awarded in April 2006, after England and Wales withdrew from the bidding to host the 2015 ICC Cricket World Cup, which was held in Australia and New Zealand.
The first match will be played at The Oval while the final will be played at Lord's. It is the fifth time that the Cricket World Cup will be held in England and Wales, following the 1975, 1979, 1983 and 1999 World Cups.
The World Cup 2019 is one the biggest events in the history and hopes to provide a significant positive boost to the local economies.
The England Cricket Board (ECB) are tentatively planning to take the tournament around the country in blocks of matches - staging two or three games in the same venue over the course of a week.
Different locations will come with different perks and challenges. For instance, while a blockbuster clash featuring heavyweight names will sell out any of the 12 grounds on the list, some of the lesser lights are unlikely to be such a big draw.
ECB will have to think hard about where each of the 45 group games are played, and they would do well to target particular demographics.
Birmingham's large South Asian population - 13.5 per cent of the 'Second City' are of Pakistani descent and six per cent Indian, according to the 2011 census - would be the perfect hosts for sub-continental match-ups.
Leeds would also make sense, just 10 miles down the M62 from Bradford where 17 per cent of the city have origins in the same two countries; Nottingham is not far from Leicester, where 35 per cent of its 330,000 residents originate from South Asia, and the Olympic Stadium in Newham is already being lined up as a potential venue for the meeting of the two nations - the 66,000 tickets available for that one could be sold 50 times over.
Birmingham is set to benefit from a £32.1m economic boost by hosting five matches of the ICC Men's Cricket World Cup, according to EY.
The report - conducted on behalf of the England and Wales Cricket Board (ECB) - considered factors including ticket sales; match day spending on food, drink and merchandise; wider spending from international visitors in the hospitality, retail and transport sectors; and the tourism and business legacy from the tournament's global exposure.
Nicola Hewitt, commercial director for the West Midlands Growth Company, which operates Visit Birmingham, said, "Sport plays a hugely significant role in drawing record numbers of domestic and international visitors to the West Midlands, boosting the region's economy.
"It also brings us firmly to the attention of worldwide investors and our global target markets, helping new and existing businesses across our patch to grow.
Meanwhile, Nottingham is set to benefit from an expected £18 million economic boost by hosting five matches as part of the ICC Men's Cricket World Cup (Thurs 30 May - Sun 14 July), according to analysis from global accountancy firm EY.
Stephen Jackson, interim Chief Executive at Marketing NG, said, "The impact of the ICC Men's Cricket World Cup 2019 on Nottingham's economy should not be underestimated. Around 87,500 people will attend the sell-out matches at Trent Bridge and around 75 per cent of these are expected to be travelling from at least 25 miles away.
"It's likely that they will be making use of Nottingham's hotels, restaurants and visitor attractions during their visit."
This Summer's Cricket World Cup will significantly boost Manchester's hospitality economy, says Adrian Ellis, chairman of Manchester Hoteliers' Association (MHA).