Gayle breaks record for most World Cup sixes
Pakistan record their shortest innings in WC history
---
---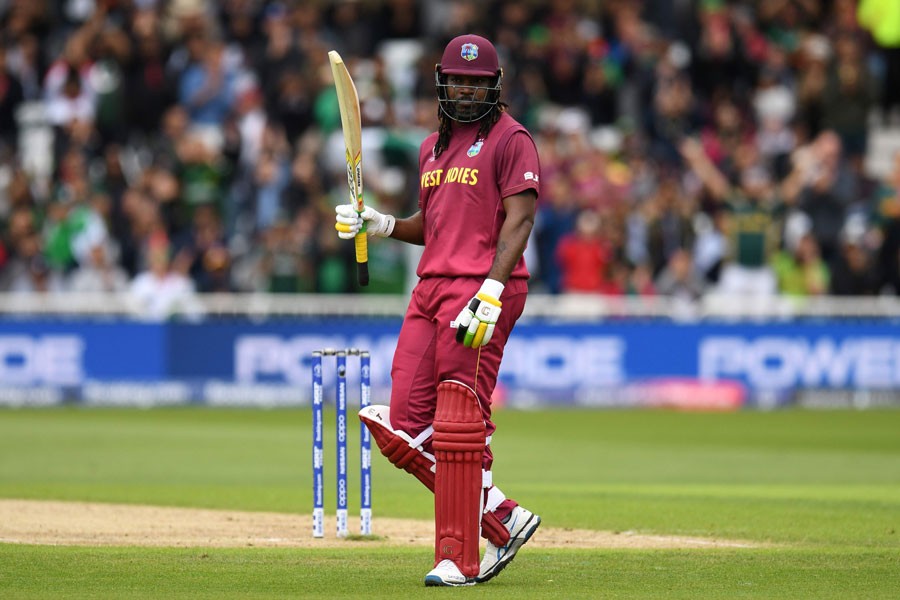 West Indies' Chris Gayle celebrating his half century during the 2019 Cricket World Cup group stage match against Pakistan at Trent Bridge in Nottingham, central England on Friday — AFP
Chris Gayle broke the record for most sixes hit in the history of the World Cup in his innings for West Indies in their first match of the tournament against Pakistan at Trent Bridge on Friday, reports https://indianexpress.com.
Gayle smashed Hasan Ali for two consecutive sixes in just the fourth over of the West Indies innings, opening the innings in the chase after Pakistan had managed to put up only 105.
His first six, smashed over wide long on, was his 38th six in World Cup history. The next one, hit down the ground, was his 39th.
He hit a third six in the 10th over of Wahab Riaz, taking his total World Cup six count to 40. He was out for 50, with his team at 77/3 in the 11th over and well on course to victory.
Before this match, the record for most sixes in World Cups belonged was a tie between Gayle and AB de Villiers, who has 37 World Cup sixes to his name. De Villiers, however, had batted in fewer innings (22) than Gayle (26).
Gayle, with 40 sixes, now has the record for the most World Cup sixes. AB de Villiers, with 37 sixes, is second.
Sachin Tendulkar and Sanath Jayasuriya (both 27 sixes) are tied at sixth. Sourav Ganguly (25 sixes) is in eighth place, Matthew Hayden (23 sixes) is ninth and Vivian Richards (22 sixes) is tenth.
Meanwhile, Pakistan have started World Cup 2019 on a disastrous note. They have collapsed for a score of 105 in 21.4 overs in their first match of the campaign against West Indies at Trent Bridge on Friday. West Indies chased down the target in 13.4 overs.
---
---
---