---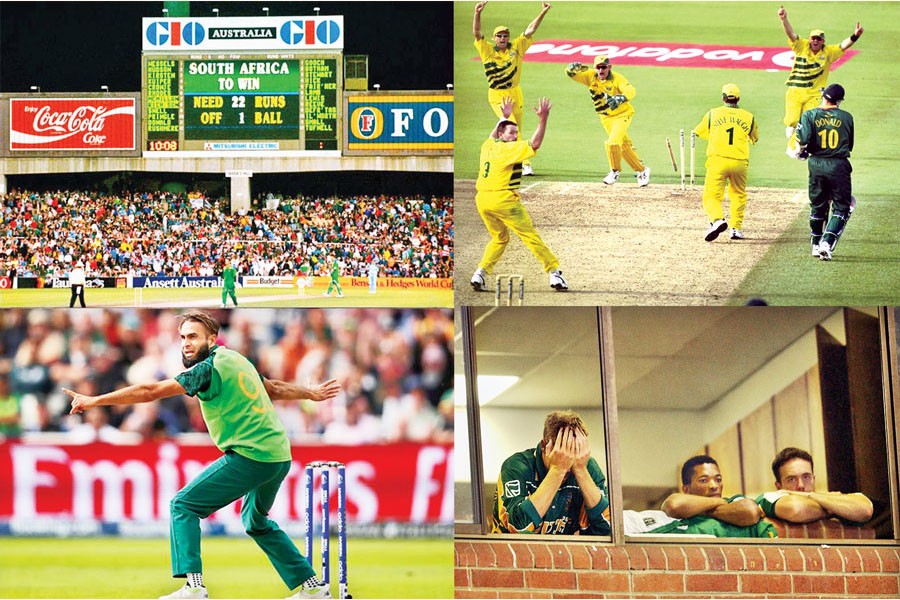 Clockwise: The bizarre rain-rule reduced South Africa's target from 22 runs off 13 balls to 22 runs in 1 ball in the World Cup 1992 semi-final against England, Australia celebrated after South Africa's Allan Donald is run out in the semifinal of the 1999 World Cup, Shaun Pollock is inconsolable after messing up his maths in 2003, South Africa's Imran Tahir kept attacking the batsman and this time it was a caught-behind which was not appealed
FE Sports Desk
South African supporters are experienced when it comes to dealing with Cricket World Cup heartache, but even they will be left scratching their heads after the failures of 2019.
A day after its 20th anniversary, the performance of the rainbow nation against New Zealand paints a grim picture for the team's fans, reminding them how overwhelming pressure still suffocates, and sometimes freezes a team. South Africa showed why they may not shed the tag anytime soon.
South Africa missed the opening four World Cups due to their apartheid ban from international cricket. They finally made their first appearance at the 1992 tournament but despite strong performances at the showpiece event, theirs is a story of heartbreak.
In the 1992 World Cup, South Africa were vexed by the old rain rule. In the semi-final against England, they had needed 22 off 13 when the rains came. Then 22 off one ball when play resumed - that old rule removing the runs scored off the two cheapest overs in England's innings, from South Africa's target (there had been two maidens, on this occasion).
In the 1996 World Cup, under the captaincy of Hansie Cronje, South Africa came to their second every world cup tournament with a point to prove. They bulldozed their way the quarter-finals. A selection blunder followed. In what was a pace-friendly pitch, South Africa benched Allan Donald and opted for a spinner in Paul Adams. Chasing 265, they were bowled out for 245.
In 1999, the infamous run-out of Allan Donald lost South Africa the semi-final, at Edgbaston. With just a single needed off four deliveries, Lance Klusener set off for a quick single, but non-striker Allan Donald stayed rooted before dropping his bat and then dashed off. By that time, the Australian fielders had managed to throw the ball to 'keeper Adam Gilchrist who did the rest. The match ended in a tie and Australia entered the final on the basis of better net run-rate.
In the 2003 World Cup, Another tied match sealed their fate. Sri Lanka scored 268. South Africa camp had calculated 229 to be their target by 45th over to ensure a win.
Mark Boucher smoked Muttiah Muralitharan for a six before turning down the chance to take a single off the final delivery of the 45th over. Rain came pouring down and the match was halted. As luck would have it, 229 was the score needed for a tie not win. South Africa had miscalculated their target and were knocked out.
In the 2007 World Cup, after knocking over minnows in their opening two group fixtures, South Africa suffered an 83-run loss against old rivals Australia. Only there was no late drama as they were bundled out for 149 - a target Aussies achieved with no fuss.
In the 2011 World Cup, an in-form South Africa were rampant in the group stage. A quarter-final meeting with New Zealand pitted them as firm favourites. In chase of 222, South Africa were in the driving seat at 108/2 when Jacques Kallis fell. Faf du Plessis then committed a major error, running out his partner AB de Villiers while attempting a quick single. The Kiwis gave him an earful for his deed and a heated exchange followed. That proved to be the turning point of the match as South Africa collapsed to be bowled out for 172.
In the 2015 World Cup, and then followed yet another dramatic exit. Again, it was New Zealand who pushed them out. An unfit Vernon Philander was slotted into the XI in place of in-form Kyle Abbott. Du Plessis and De Villiers starred, powering their team to 281/5. Rain forced a revised target of 298. The match went down the wire with New Zealand needing 12 off six. Daniel Vettori struck a four off the third delivery and with five need off the last two, Grant Elliott struck a six sending New Zealand into their maiden World Cup final.
In 2019, Kane Williamson anchored New Zealand to a tense four-wicket victory at Edgbaston on Wednesday after an astonishing stroke of luck when South Africa failed to review an edge from the Kiwi captain. The Black Caps' skipper was on 76 when he got a faint edge to a ball from leg-spinner Imran Tahir that Quinton de Kock took behind the stumps. The Proteas barely appealed and didn't ask for a review, despite replays clearly showing a bottom edge.