Afghan quake survivors dig by hand through villages
Many children killed in disaster, doctors say
---
---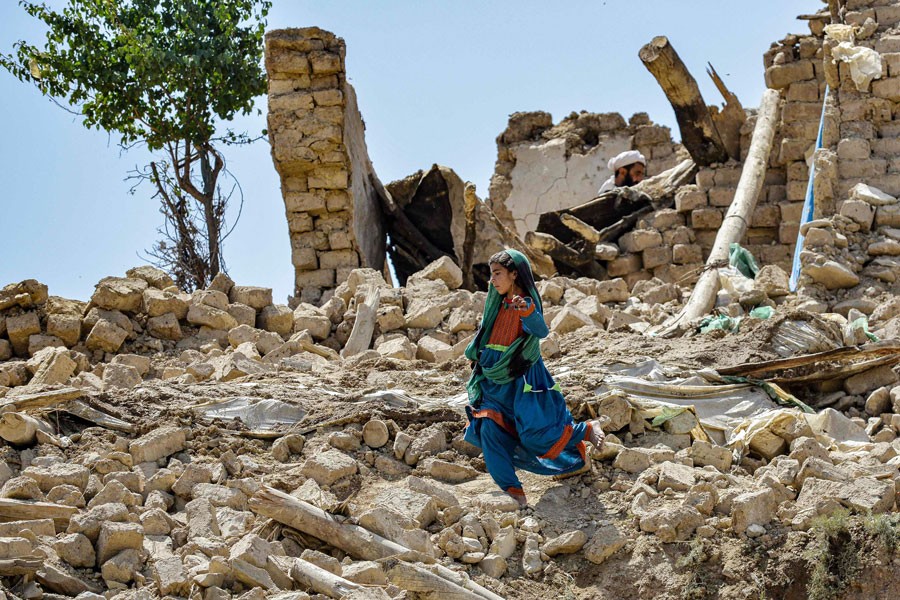 A child walks amidst the rubble of damaged houses following an earthquake in Bernal district, Paktika province, on Thursday — AFP
GAYAN, June 23 (AP/BBC): Survivors dug by hand Thursday through villages in eastern Afghanistan reduced to rubble by a powerful earthquake that killed at least 1,000 people, as the Taliban and the international community that fled their takeover struggled to aid the disaster's victims.
In Paktika province's hard-hit Gayan district, villagers stood atop the mud bricks that once was a home there. Others carefully walked through dirt alleyways, gripping onto damaged walls with exposed timber beams to make their way.
The quake was Afghanistan's deadliest in two decades, and officials said the toll could rise. An estimated 1,500 others were reported injured, the state-run news agency said.
The disaster inflicted by the 6 magnitude quake heaps more misery on a country where millions face increasing hunger and poverty and the health system has been crumbling since the Taliban retook power nearly 10 months ago amid the U.S. and NATO withdrawal. The takeover led to a cutoff of vital international financing, and most of the world has shunned the Taliban government.
How - and whether the Taliban allow - the world to offer aid remains in question as rescuers without heavy equipment dug through rubble with their bare hands.
Doctors in Afghanistan have told the BBC that many children may have been killed in Wednesday's earthquake.
More than 1,000 people died in the disaster and heavy rain, threadbare resources and rugged terrain are hampering rescue workers.
Unknown numbers were buried in the rubble of ruined, often mud-built homes by the magnitude 6.1 earthquake.
The Taliban authorities have called for more international aid. Communication networks are also badly hit.
---
---
---
---