---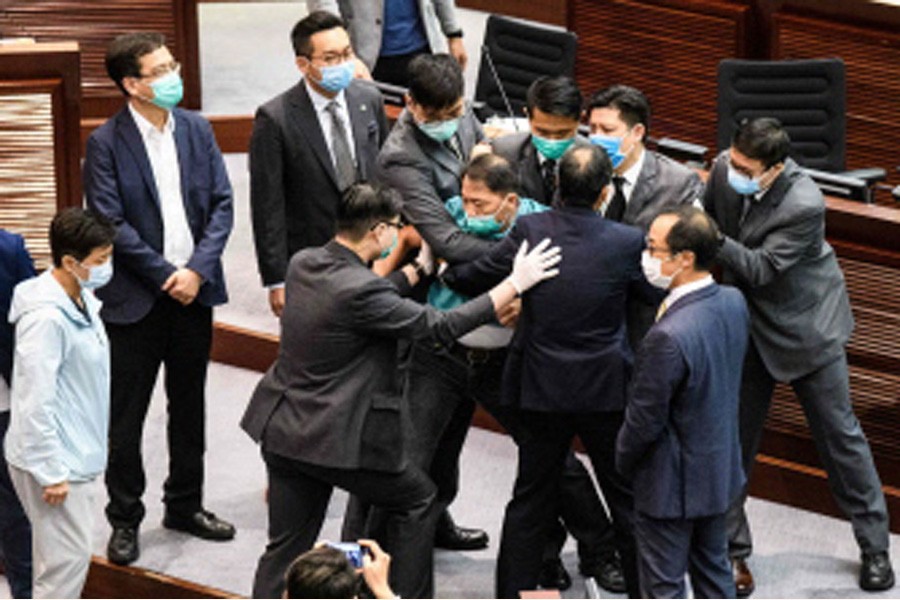 Pro-democracy lawmaker Wu Chi-wai (centre, green shirt) is escorted by security out of the Legislative Council after pro-democracy lawmakers disrupted a House Committee meeting concerning the second reading of a national anthem bill in the chamber in Hong Kong on Friday — AFP
BEIJING, May 22 (AFP): China moved Friday to quash Hong Kong's pro-democracy movement by unveiling plans for a new security law at the start of its annual parliamentary session that also laid bare the "immense" economic challenges caused by the coronavirus.
The 3,000-member National People's Congress (NPC) began with a minute of silence for China's victims of the coronavirus before Premier Li Keqiang delivered his annual version of the US president's "state of the union" address.
"At present, the epidemic has not yet come to an end, while the tasks we face in promoting development are immense," Li told mask-wearing delegates in Beijing's cavernous Great Hall of the People, while also touting China's success in suppressing the contagion.
The pandemic forced Beijing to delay its annual parliament by two months and reduce its length to a week.
Citing "great uncertainty" ahead, Li took the rare move of refraining from announcing a 2020 growth target for China's pandemic-battered economy, offering only a vague promise to address mounting joblessness and to improve living standards.
The most controversial move at the NPC opening was the introduction of a proposal to impose a security law in Hong Kong-immediately denounced by the US and pro-democracy figures in the financial hub who called it a death sentence for the territory's unique freedoms.
The draft proposal will "guard against, stop and punish any separatism, subversion of the national regime, terrorist group activities and such behaviours that seriously harm national security".
The motion, which goes to a vote in the rubber-stamp legislature on Thursday, would authorise Chinese lawmakers to directly enact long-delayed Hong Kong security legislation itself at a future date, rather than leaving it up to the territory's administration.
China made clear it wanted the law passed after Hong Kong was rocked by seven months of massive and sometimes violent pro-democracy protests last year.
An AP report adds: Hong Kong pro-democracy lawmakers sharply criticized China's move to take over long-stalled efforts to enact national security legislation in the semi-autonomous territory, saying it goes against the "one country, two systems" framework in which Beijing promised the city freedoms not found on the mainland.
The proposed bill, submitted Friday on the opening day of China's national legislative session, is aimed at forbidding secessionist and subversive activity, as well as foreign interference and terrorism. It comes after months of pro-democracy demonstrations last year that at times descended into violence between police and protesters.
The bill, one of the most controversial items on the agenda of the National People's Congress in years, drew strong rebukes from the US government and rights groups. Despite that, Beijing appears to have lost patience and is determined to assert greater control in Hong Kong and limit opposition activity following last year's protests.
"Xi Jinping has torn away the whole pretense of 'one country, two systems,'" former pro-democracy lawmaker Lee Cheuk-yan said of China's leader.