---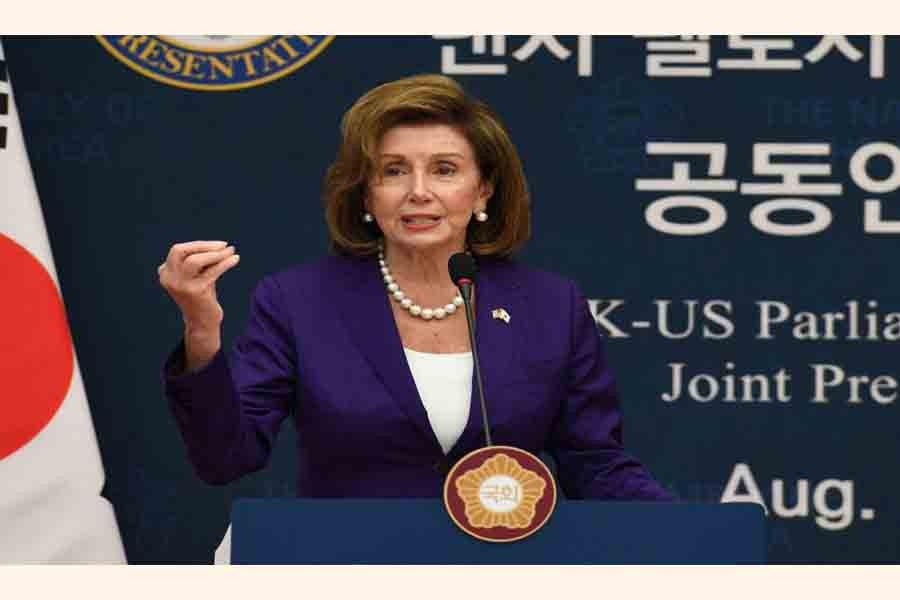 US House Speaker Nancy Pelosi
BEIJING, Aug 05 (AP/Reuters): China said on Friday that more than 100 warplanes and 10 warships have taken part in live-fire military drills surrounding Taiwan over the past two days, while announcing sanctions on US House Speaker Nancy Pelosi over her visit to the self-governing island earlier this week.
The official Xinhua News Agency said Friday that fighters, bombers, destroyers and frigates were all used in what it called "joint blockage operations" taking place in six zones off the coast of Taiwan, which China claims as its own territory.
The military's Eastern Theater Command also fired new versions of missiles it said hit unidentified targets in the Taiwan Strait "with precision."
Those included projectiles fired over Taiwan into the Pacific, military officers told state media, in a major ratcheting up of China's threats to annex the island by force.
The drills, which Xinhua described as being held on an "unprecedented scale," are China's response to a visit this week by Pelosi to Taiwan. She is the highest ranking US politician to visit Taiwan in 25 years.
China announced unspecified sanctions on Pelosi and her family. Such sanctions are generally mostly symbolic in nature.
A Chinese Foreign Ministry statement said that Pelosi had disregarded China's serious concerns and resolute opposition to her visit. It called Pelosi's visit provocative and said it undermines China's sovereignty and territorial integrity.
China opposes Taiwan having its own engagements with foreign governments.
On the Chinese coast across from Taiwan, tourists gathered Friday to try to catch a glimpse of any military aircraft heading toward the exercise area.
Fighter jets could be heard flying overhead and tourists taking photos chanted, "Let's take Taiwan back," looking out into the blue waters of the Taiwan Strait from Pingtan island, a popular scenic spot.
China's insistence that Taiwan is its territory and threat to use force to bring it under its control has featured highly in ruling Communist Party propaganda, the education system and the entirely state-controlled media for the more than seven decades since the sides divided amid civil war in 1949.
Island residents overwhelmingly favor maintaining the status quo of de facto independence and reject China's demands that Taiwan unify with the mainland under Communist control.
A Reuters report adds: China's firing of missiles during military drills around Taiwan was an unjustified escalation, US Secretary of State Antony Blinken said, as Beijing said it would impose sanctions on House of Representatives Speaker Nancy Pelosi for visiting the island.
Diplomatic relations spiralled further downward on Friday, as China's foreign ministry followed up by saying it would cancel dialogues between US and Chinese military leaders, and suspend bilateral talks on climate and maritime safety.
Blinken said Washington has made it repeatedly clear to Beijing it does not seek a crisis, as diplomatic ructions continued over Pelosi's visit this week to the self-governed island that Beijing regards as its sovereign territory.
"There is no justification for this extreme, disproportionate and escalatory military response," Blinken said, speaking at a news conference during the sidelines of the ASEAN Regional Forum in Cambodia. He added, "now, they've taken dangerous acts to a new level".
China launched its largest ever military drills in the seas and skies around Taiwan on Thursday, a day after Pelosi enraged Beijing by making a solidarity trip to the island, the highest-level US visitor to Taiwan in 25 years. The live-fire drills are scheduled to continue until noon on Sunday.
On Friday, China's military conducted air and sea drills to the north, southwest and east of Taiwan "to test the troops' joint combat capabilities", the Eastern Theatre Command of the People's Liberation Army (PLA) said in a statement on its official Weibo account.
Blinken emphasised that the United States would not take actions to provoke a crisis, but it would continue to support regional allies and conduct standard air and maritime transit through the Taiwan Strait.