---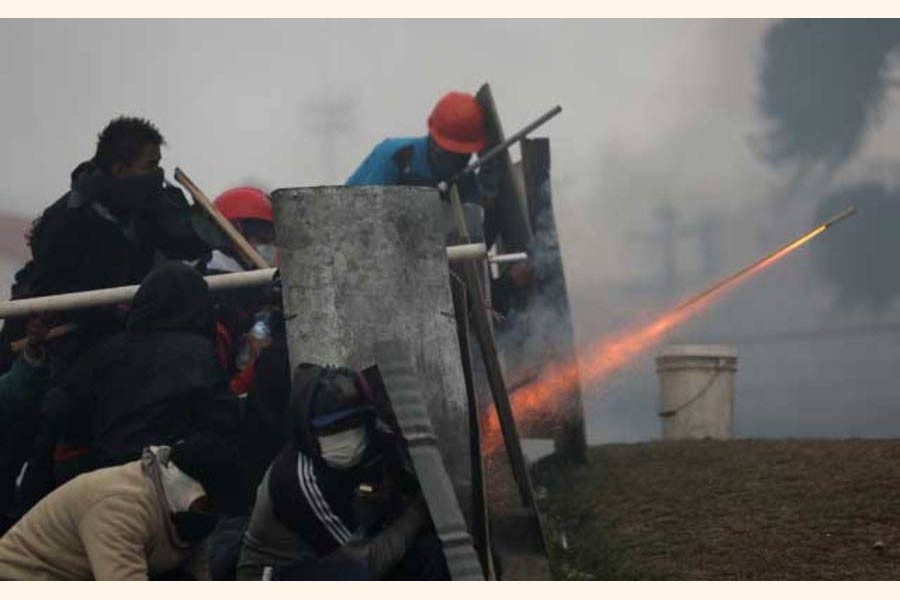 Demonstrators firing a homemade weapon during a protest -- Reuters
QUITO, Oct 14 (Reuters): Ecuadorean police battled masked men who launched homemade projectiles at them in downtown Quito on Sunday, as protesters defied a curfew that was imposed by President Lenin Moreno in a bid to quell anti-austerity unrest.
Parts of the highland city of nearly 3 million people resembled a war zone, with armoured military vehicles patrolling some streets and sounds resembling explosions and shots ringing out. In the historic centre, men took shelter behind makeshift barricades amid plumes of tear gas, according to Reuters witnesses.
Ecuadoreans posted videos on social media of burning road blockades as the 11th day of unrest over cuts to fuel subsidies threatened to derail the first talks aimed at re-establishing peace.
An initial round of dialogue between the government and protest leaders began on Sunday after being delayed by three hours because of "operational difficulties," said the United Nations in Ecuador, one of the mediators.
The unrest was the worst in the small South American country in more than a decade and the latest flashpoint of opposition to the International Monetary Fund in Latin America.
Moreno, who took office in 2017, signed a $4.2 billion deal with the IMF earlier this year, angering many of his former supporters who voted for him as the left-leaning successor of his former ally, Rafael Correa.
He defended his cuts to fuel subsidies as a key part of his bid to clean up the country's finances, but denies the measure was required by the IMF.
---
---
---