---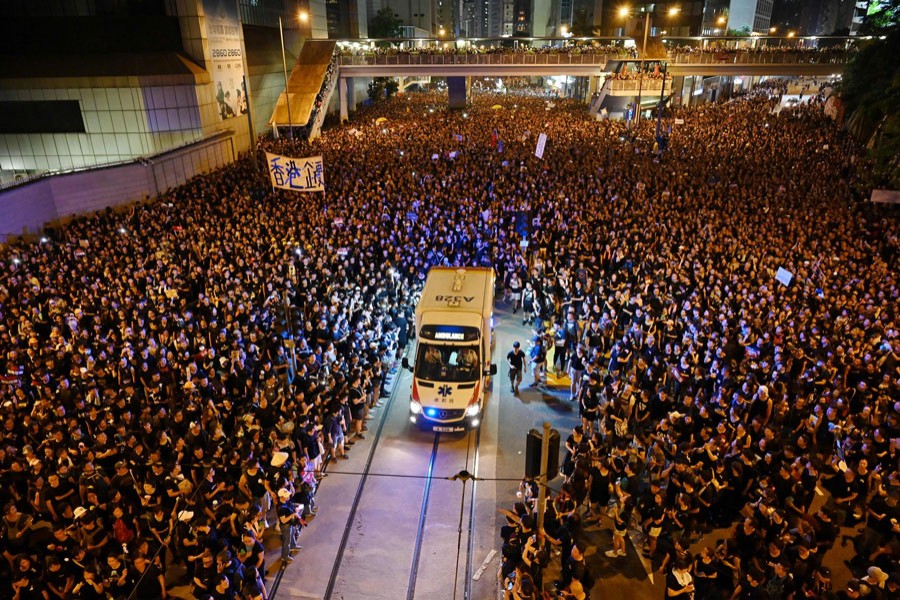 HONG KONG, June 16 (AP): Tens of thousands of Hong Kong residents, mostly clad in black, jammed the city's streets Sunday in a vehement show of opposition to proposed legislation that has stoked fears of expanding control from Beijing in this former British colony.
The marchers are demanding that Hong Kong's leader first scrap an extradition bill that would allow some suspects to be sent for trial in mainland China and then resign. The conflict, which slipped into unusually violent clashes with police last week, is one of the toughest tests of the territory's special status since China took control in a 1997 handover.
The demonstrators carried banners demanding that Chief Executive Carrie Lam step down. Walking slowly and shouting "withdraw" and "resign," the crowd filled a wide thoroughfare and side streets paralleling the waterfront of Victoria Harbor.
Lam's announcement Saturday that she was suspending the legislation failed to mollify critics of the measure who see it as one of many steps chipping away at Hong Kong's freedoms and legal autonomy.
"Our demands are simple. Carrie Lam must leave office, the extradition law must be withdrawn and the police must apologize for using extreme violence against their own people," bank worker John Chow said as he marched with a group of his friends. "And we will continue."
Sunday's march looked likely to match in scale one a week earlier that brought as many as one million people out to express their concern over the former British colony's relations with mainland China.
---
---
---