---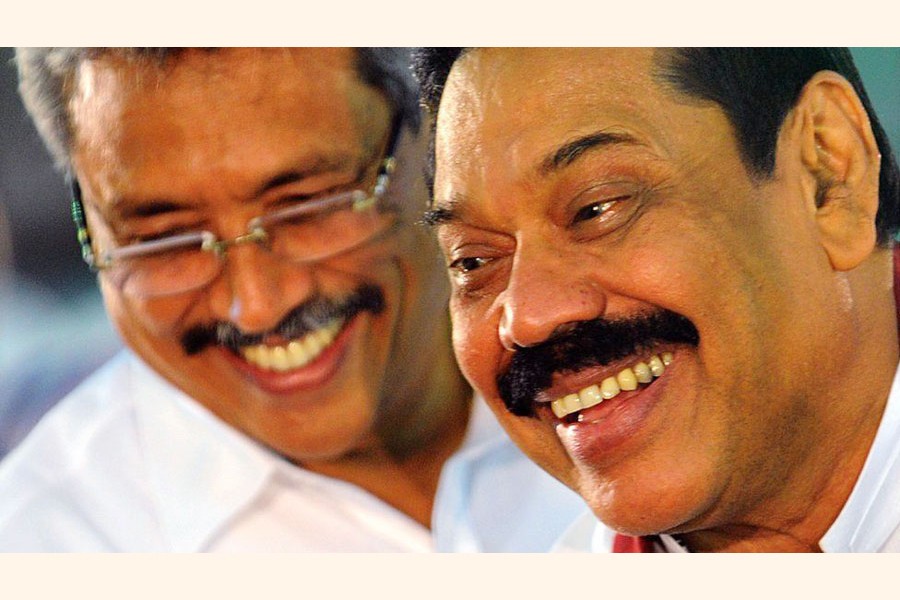 Gotabaya (left) and Mahinda Rajapaksa in 2013 - Sri Lankans blame for the current crisis
COLOMBO, May 13 (BBC/AFP): Sri Lanka is at a crossroads as an economic crisis upends the lives of its 22 million people. The Rajapaksa brothers, hailed by many as heroes for winning the civil war, are now reviled as leaders. How did this happen and what comes next?
Since early April protesters had been demanding that President Gotabaya Rajapaksa and Mahinda, his prime minister, quit for leading the country to economic ruin - but this week saw a decisive turning point.
First, Mahinda Rajapaksa resigned after his supporters attacked anti-government protesters, triggering deadly clashes across the country. Dozens of houses of politicians were torched, including some owned by the Rajapaksas.
Mr Rajapaksa, 76, had to be evacuated from his official residence after it was besieged by angry crowds.
He's holed up in a naval base in the north-east for his safety. A court has banned him from leaving the country - utter humiliation for a man who was twice president.
His departure has done nothing to ease the growing pressure on his beleaguered younger brother, 72.
So far the president has ignored the calls to quit, although he has now been forced to offer some concessions. He agreed to transfer some his executive powers to parliament, and has appointed political veteran Ranil Wickremesinghe as the new prime minister heading a proposed cross-party government.
But his political future is very much still on the line, and some believe it's only a matter of time before he's forced to go.
Sri Lanka can scarcely afford further political instability as it stares at its worst economic crisis since independence from Britain. People are seething with anger over soaring prices and shortages of food and fuel.
It's a dramatic fall from grace for a family that has dominated Sri Lankan politics for more than a decade.
Mahinda Rajapaksa was once celebrated by the majority Sinhalese as a hero for bringing an end to nearly three decades of civil war when the Tamil Tiger rebels were crushed in 2009 during his first term as president.
Meanwhile, a Sri Lankan lawmaker who shot dead an anti-government protester this week was later lynched by a mob, a forensic report showed Friday, contradicting a police report that he died by suicide.
Amarakeerthi Athukorala opened fire on people blocking his car's path in the town of Nittambuwa on Monday, after the country erupted into violence when a gang of government loyalists attacked peaceful protesters.
Police said Athukorala had tried to take refuge in a building and shot himself after after being surrounded by about 5,000 people.
"The MP's death was due to multiple injuries, fractures and internal bleeding, but he had no gunshot wounds," the Lankadeepa newspaper said, quoting the autopsy report.