---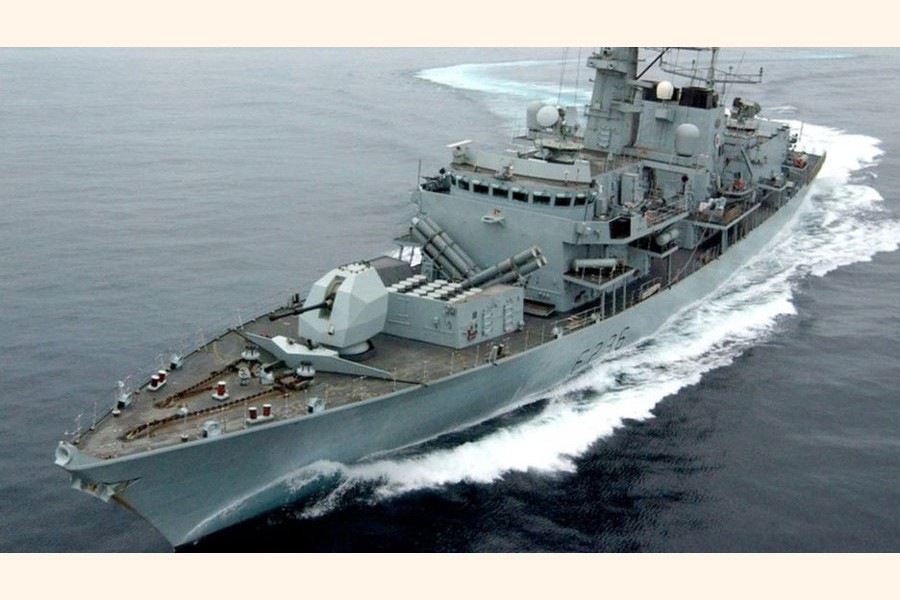 HMS Montrose was shadowing a British tanker as it moved into the Strait of Hormuz on Wednesday — Reuters
LONDON, July 11 (Agencies): Iranian boats tried to impede a British oil tanker near the Gulf - before being driven off by a Royal Navy ship, the Ministry of Defence has said.
HMS Montrose, a British frigate shadowing the BP-owned tanker, was forced to move between the three boats and the tanker, a spokesman said.
He described the Iranians' actions as "contrary to international law".
Iran had threatened to retaliate for the seizure of one of its own tankers, but denied any attempted seizure.
Boats believed to belong to Iran's Islamic Revolution Guard Corps (IRGC) approached tanker British Heritage and tried to bring it to a halt as it was moving out of the Gulf into the Strait of Hormuz.
Guns on HMS Montrose were trained on the Iranian boats as they were ordered to back off, US media reported. The boats heeded the warning and no shots were fired.
The BBC has been told British Heritage was near the island of Abu Musa when it was approached by the Iranian boats.
HMS Montrose had been shadowing British Heritage from a distance but came to its aid once the Iranian boats began harassing the tanker, BBC defence correspondent Jonathan Beale said.
Although Abu Musa is in disputed territorial waters, HMS Montrose remained in international waters throughout.
A UK government spokesman said: "Contrary to international law, three Iranian vessels attempted to impede the passage of a commercial vessel, British Heritage, through the Strait of Hormuz."
Defence Secretary Penny Mordaunt said the government was concerned by the incident and urged the Iranian authorities to "de-escalate the situation".
Foreign Secretary Jeremy Hunt added the UK would monitor the situation "very carefully".
Prime Minister Theresa May's official spokesman said the government was "committed to maintaining freedom of navigation in accordance with international law".
The navy of Iran's Islamic Revolution Guard Corps has denied claims it tried to seize the tanker, Iranian news agencies said. The navy added there had been no confrontation with any foreign vessels in the past 24 hours.