---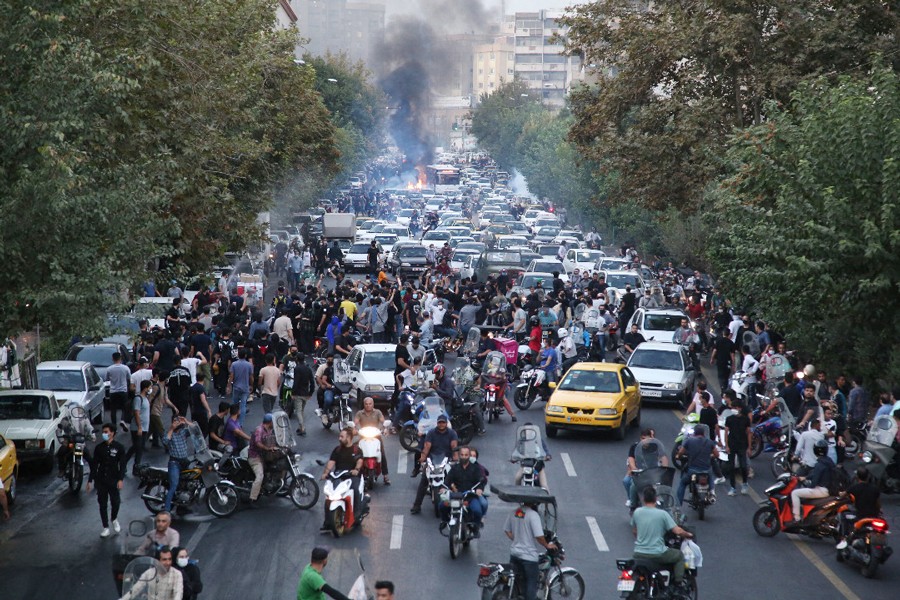 Iranian demonstrators taking to the streets of the capital Tehran during a protest for Mahsa Amini, days after she died in police custody — AFP
TEHRAN, Sept 22 (Reuters): Protesters in Tehran and other Iranian cities torched police stations and vehicles on Thursday as unrest triggered by the death of a woman detained by the morality police intensified, with reports of security forces coming under attack.
Mahsa Amini, 22, died last week after being arrested in Tehran for wearing "unsuitable attire". She fell into a coma while in detention. The authorities have said they would launch an investigation into the cause of her death.
The incident unleashed huge anger in the population and the worst protests in the Islamic Republic since 2019. Most have been concentrated in Iran's Kurdish-populated northwest but have spread to the capital and at least 50 cities and towns nationwide, with police using force to disperse protesters.
Iran's state-run media this week reported demonstrations in at least 13 cities, including the capital, Tehran, as protesters vent anger over social repression. Videos online show security forces firing tear gas and water canons to disperse the protests. London-based Amnesty International reported that officers fired birdshot and beat protesters with batons.
At least nine people have died in the confrontations, according to an AP count based on statements from Iran's state-run and semiofficial media. Officials have blamed unnamed foreign countries, which they claim are trying to foment unrest.
A member of an Iranian pro-government paramilitary organisation, the Basij, was stabbed to death in the northeastern city of Mashhad on Wednesday, two semi-official Iranian news agencies reported on Thursday.
The Tasnim and Fars news agencies reports of the stabbing appeared on Telegram as both their websites were out of reach. There was no official confirmation of the death.
Tasnim also said another member of the Basij was killed on Wednesday in the city of Qazvin as a result of a gunshot wound inflicted by "rioters and gangs", bringing the total reported number of security force members killed in the unrest to four.
In the northeast, protesters shouted "We will die, we will die but we'll get Iran back" near a police station which was set on fire, a video posted on Twitter account 1500tasvir showed. The 1500tasvir account focuses on Iran protests and has around 100,000 followers.