---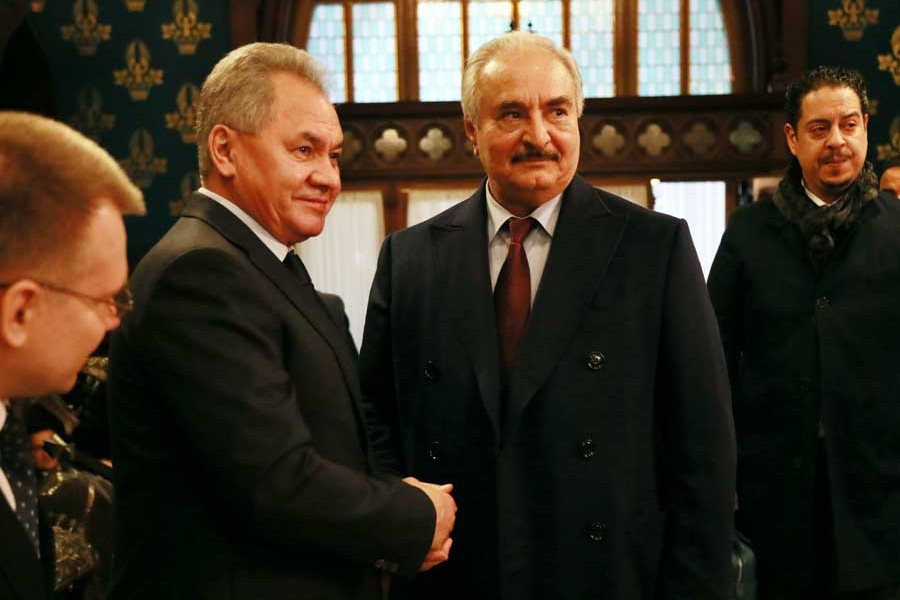 Moscow : Russian Defence Minister Sergei Shoigu shaking hands with Libya's military strongman Khalifa Haftar in Moscow on Monday — AFP
TRIPOLI, Jan 13 (Agencies): Libya's rival forces were set to sign a ceasefire deal in Moscow on Monday, according to media reports citing local officials.
Libya's Government of National Accord (GNA) on Sunday issued a statement, expressing agreement to a ceasefire starting from Jan. 12 at midnight (2200 GMT), several hours after rival forces announced a cessation of hostilities.
The Libyan conflict escalated in 2014, splitting power between two rival governments: the UN-backed, Tripoli-based GNA and a Tobruk-based government allied with self-proclaimed Libyan National Army (LNA) led by Khalifa Haftar who seeks to take over Tripoli.
Reports said Haftar has arrived in Moscow, where he could hold talks with GNA Prime Minister Fayez al-Sarraj who will arrive there on Monday.
Al-Sarraj on Monday called on Libyans to "turn the page on the past, reject discord and to close ranks to move towards stability and peace," according to media reports.
Meanwhile, French President Emmanuel Macron has called for a credible and lasting ceasefire in Libya, his office said on Monday, as the main players in the conflict prepare to sign a truce.
"The president emphasised the necessity that the ceasefire that is to be announced is credible, lasting and verifiable," Macron's office said, following telephone talks between the president and Russian counterpart Vladimir Putin on Sunday.
The head of Libya's UN-recognised Government of National Accord (GNA) Fayez al-Sarraj and his rival, strongman Khalifa Haftar, are due to confirm a ceasefire later on Monday in Moscow.
The GNA in Tripoli had been under attack since last April from forces loyal to eastern-based Haftar, which on January 6 captured the strategic coastal city of Sirte.
More than 280 civilians and about 2,000 fighters have been killed and 146,000 Libyans displaced since Haftar launched his assault, according to the UN.
The North African country has been wracked by chaos since a 2011 revolt -backed by France and other European countries - toppled longtime leader Moamer Kadhafi.
During his call with Putin, Macron expressed hope that a conference to be held in Berlin would relaunch a peace process for Libya under the aegis of the United Nations.