---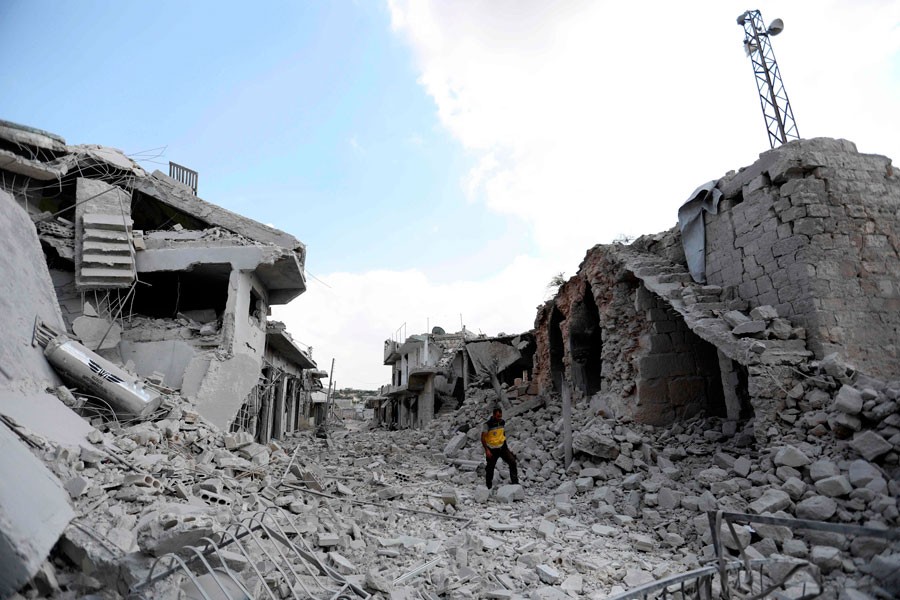 IHSIM: A man walking amidst the debris of destroyed buildings in the town of Ihsim, in Syria's Idlib region on Friday — AFP
ANKARA, June 16 (Xinhua): Syrian government forces "deliberately" attacked a Turkish observation post in Syria's northwestern province of Idlib with no casualties reported, Turkish Defense Ministry said on Sunday.
The Turkish observation post, located at Murak area in the Idlib de-escalation zone, was shelled from Tall Bazan area controlled by the Syrian army, said a ministry statement.
The attack caused some material damage and Turkish army immediately retaliated with heavy weapons, it added.
According to the ministry, necessary initiatives had been taken with Russia and the situation was being followed closely.
On Thursday, a Turkish observation post in Idlib was attacked by the Syrian government forces, and left three Turkish soldiers injured.
The Turkish military sent reinforcements to the post after the attack.
Turkey blamed the Syrian government forces for the earlier attack but Russia said it was launched by rebel militants.
Moscow said on Wednesday that a full cease-fire had been put in place in the area, which was denied by Ankara.
Last year, Russia and Turkey sealed an Idlib agreement to set up a demilitarized zone with a depth of 15-20 km between the armed opposition and the government troops in Idlib.
Turkey has established 12 observation posts in Idlib in order to monitor and sustain the cease-fire deal to prevent the mass influx of refugees.
---
---
---