---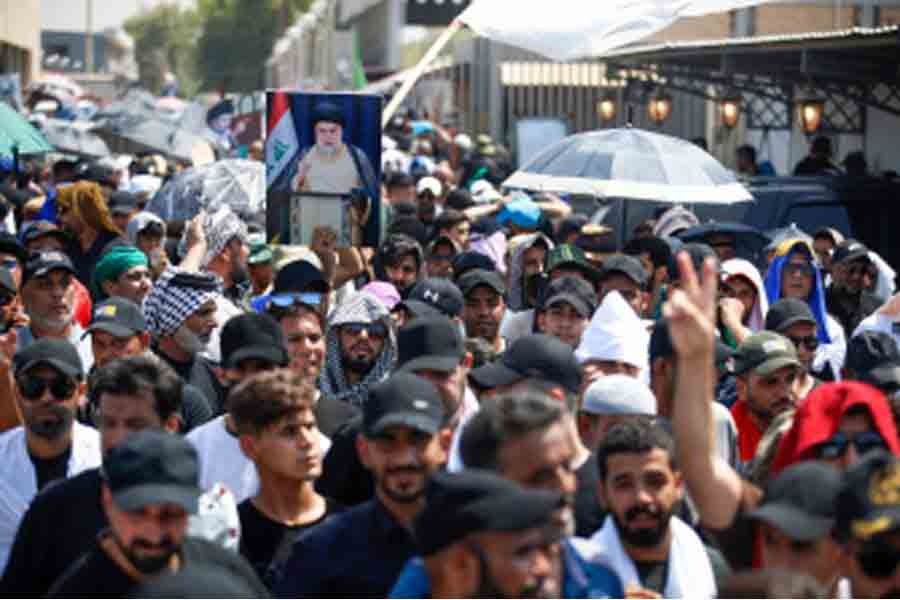 Baghdad: Supporters of Shiite cleric Muqtada al-Sadr gather outside the Iraqi parliament in the Green Zone in the capital Baghdad on Friday — AFP
BAGHDAD, Aug 05 (AFP): Tens of thousands attended mass prayers Friday in Baghdad's Green Zone in a new power play by Iraqi Shiite cleric Moqtada Sadr after his adversaries conditionally backed his call for early elections.
Sadr, a longtime political and religious force in the oil-rich but war-scarred country, has for months been in a political standoff with a rival Shiite alliance backed by Iran.
Worshippers converged on a vast square inside the normally secure Green Zone, home to government and diplomatic buildings, including the parliament which his followers began occupying on July 30.
"Yes, yes to reform! Sadr's followers chanted during the prayers. "No, no to corruption."
After the prayers, hundreds returned to the vicinity of parliament, whose air conditioned halls and marble floors they had occupied since last Saturday.
Finding the doors locked and the building empty, they continued their sit-in among the gardens of the complex, according to a request from their movement. Mixed signals emerged Tuesday from the Sadr camp for the inside of parliament to be cleared.
Sadr's mass prayer rally follows his demand for early elections -- a possibility that the rival bloc says it is conditionally open to, despite the last national polls only taking place about 10 months ago.
---
---
---
---