---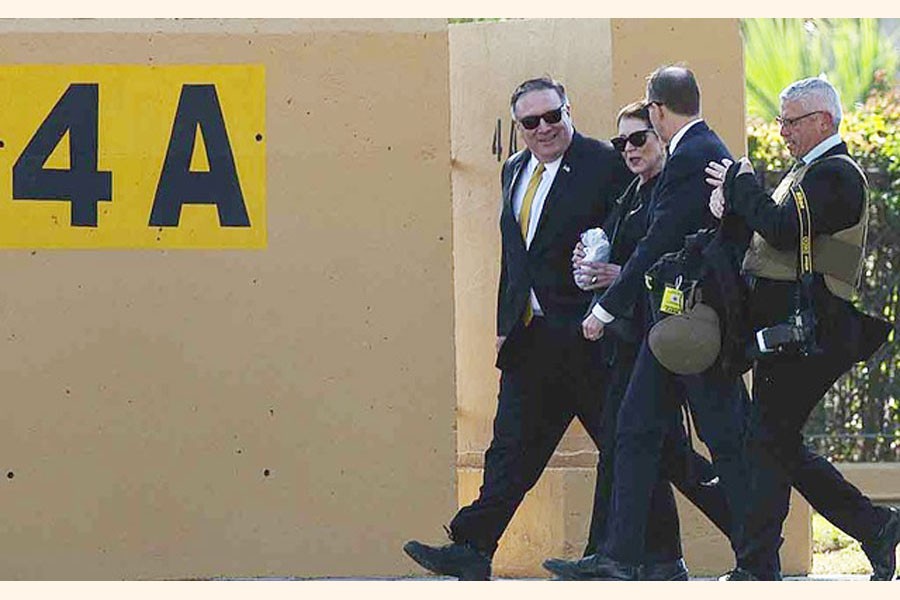 US Secretary of State Mike Pompeo and his wife Susan walking at the US embassy compound toward the helipad to catch a helicopter that will transport them to the International Airport, in Baghdad on January 09, 2019 — Reuters file
BAGHDAD, May 15 (Agencies): The State Department ordered a partial evacuation of the United States Embassy in Baghdad on Wednesday, responding to what the Trump administration said was a threat linked to Iran, one that has led to an accelerated movement of American ships and bombers into the Persian Gulf.
The department ordered "nonemergency US government employees," at both the embassy in Baghdad and the consulate in Erbil, to leave the country.
The order applies primarily to full-time diplomats posted to Iraq by State Department headquarters in Washington, and an embassy statement said that visa services in Iraq would be suspended as a result.
Contractors who provide security, food and other such services will remain in place for now.
Secretary of State Mike Pompeo said last week that the administration had received intelligence related to "Iranian activity" that put American facilities and service personnel at "substantial risk."
Other American officials have said the same piece of intelligence points to potential attacks by Shiite Arab militias tied to Iran against American troops in Iraq or Syria.
Iraqi officials have voiced skepticism about the about the threat described by the Americans, and on Tuesday, so did the British deputy commander of the American-led coalition fighting the Islamic State, or ISIS.
"No, there's been no increased threat from Iranian-backed forces in Iraq and Syria," Maj. Gen. Chris Ghika, speaking from Baghdad, told reporters at the Pentagon by video link.
There were dangers in the region that were constantly assessed, he said, referring to "noncompliant actors" among the militias, but those have not changed.
The Pentagon's Central Command released a statement saying that General Ghika's comments "run counter to the identified credible threats available to intelligence from US and allies regarding Iranian backed forces in the region," and that as a result, United States forces in Iraq were "now at a high level of alert."
Mr. Pompeo made a surprise visit to Baghdad on May 7 to brief Iraqi leaders about the threat.
On Friday, the Pentagon said it was sending another ship and a Patriot antimissile battery to the Middle East.
Meanwhile, Germany has halted its training of soldiers in Iraq, a defence ministry spokesman said on Wednesday, amid rising tensions between neighbouring Iran and the United States.
"The German army has suspended the training," defence ministry spokesman Jens Flosdorff said, adding that there was currently "generally heightened alert, awareness" for soldiers operating in the region.