---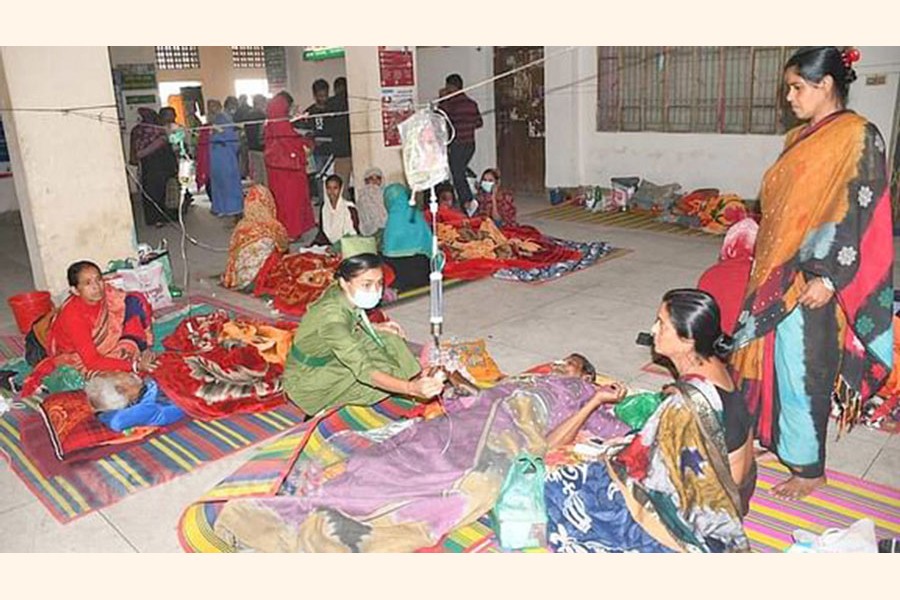 Photo shows patients receive treatment on the first floor of the Khulna Medical College Hospital in Khulna — bdnews24.com
KHULNA, Nov 30 (bdnews24.com): The suffering of people has come to a head at Khulna Medical College Hospital (KMCH) due to a rise in the flow of patients amid a change in weather while the government facility as hamstrung by a shortage of beds, doctors and medical equipment.
The KMCH, one of the most trusted medical facilities for people in the region, remains very busy throughout the year. It is so overcrowded now that the authorities have kept patients on the floors and corridors.
Besides the 1,500 patients admitted to the 500-bed hospital, the doctors treat nearly 2,000 outpatients daily, according to KMCH Director Dr Md Robiul Hasan.
The corridor on the first floor of the hospital was packed with patients, relatives and their belongings on Monday. The crowd and dust are making things worse for many patients.
The corridors of the medicine and surgery wards and the spaces in front of the elevators, blood banks and physicians' rooms are also overcrowded with patients who complained that they were not getting proper treatment at the hospital.
Shukur Ali, a resident of Paikgachha in Khulna, has been undergoing treatment at the hospital for breathing problems over the last 10 days. He said he did not get any bed and had to do one of two tests suggested by the doctor from outside.
People formed a long queue in front of the hospital's pathology department early in the morning to submit samples for tests. The collection of samples continues until noon. One-third of the patients cannot submit their samples within this short time, which forces many of them to do the tests at private clinics with higher fees.
Pathologist Dr Md Niaz Nowshed said the services are limited at the lab due to the lack of equipment, test kits and employees. Some machines are also broken, he added.
Two patients admitted to the hospital's gynaecology ward said doctors visit them just once a day and interns or nurses attend to their urgent needs throughout the rest of the day.
The patients also complained about agents of private hospitals annoying them in and outside the hospital. The patients expressed concerns over the quality of food and long waiting hours before a surgery gets done.
At the outpatient department, Swapna Khatun, a resident of Batiaghata Upazila, said she has been waiting for more than two hours to get the doctor's appointment for her daughter after buying a ticket.
KMCH Director Robiul said the hospital does not have sufficient employees to handle the pressure.
Around 92 out of 288 posts for physicians and 43 vacant posts of employees have made things worse.
The two operation theatres have eight operating tables.
"The hospital authority somehow manages to distribute food among all patients but it's difficult to manage medicines which are allocated only for 500 patients," said Robiul.