Bangladesh eyes investment worth around US$ 15 billion from Saudi Arabian investors, as a high-profile delegation of the country is going to arrive in Dhaka today (Wednesday).
"We are expecting a substantial amount of investment from the Saudi investors through this visit, which will be a crucial one," Foreign Minister Dr A K Abdul Momen told the FE on Tuesday.
The minister, among others, will be on the government side that will hold official talks with the Saudi delegation at Hotel Intercontinental tomorrow (Thursday).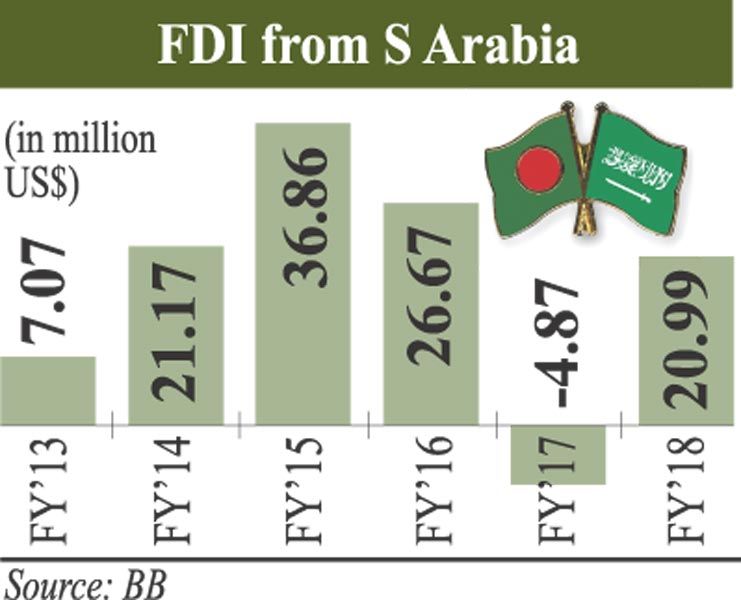 Saudi Commerce and Investment Minister Dr Majed Bin Abdullah Al Kassabi, and Economy and Planning Minister Mohammad Bin Mazyad Al-Twaijiri will lead the Saudi delegation, scheduled to land at 11.00 pm by a private jet.
Apart from holding meeting with the government officials, the delegation members are also scheduled to meet Prime Minister Sheikh Hasina at Gono Bhaban.
Bangladesh has so far prepared 16 projects, involving around $15 billion, to place before the Saudi team. It is expected that six memorandums of understanding (MoUs) and two agreements will be signed between the two sides during the visit.
"The projects, which will be submitted by us, may involve funds amounting to around $15 billion. The exact amount is yet to be calculated. We are still working on these," Executive Chairman of Bangladesh Investment Development Authority (BIDA) Kazi M Aminul Islam told the FE on Tuesday.
He said the proposed projects include Dhaka-Pyra Seaport high-speed train project, and Dhaka-Cox's Bazar high-speed train project.
The Saudi entrepreneurs will also be offered to invest in LPG terminal and oil refinery projects here, to be implemented by Saudi energy giant Aramco.
The BIDA executive chairman further said the proposals will include establishing high-tech park and exclusive export processing zone (EPZ) for Saudi investors.
"We will also offer them to invest in our tourism sector," Mr Islam added.
The foreign minister said this visit might be followed by more high-profile visits from the Kingdom of Saudi Arabia.
"We have a wonderful relationship with the country, and we hope that the delegation will find Bangladesh as an ideal investment destination," he added.