China's Alipay joins hands with bKash
Secures 10pc stake now, another 10pc next year
---
---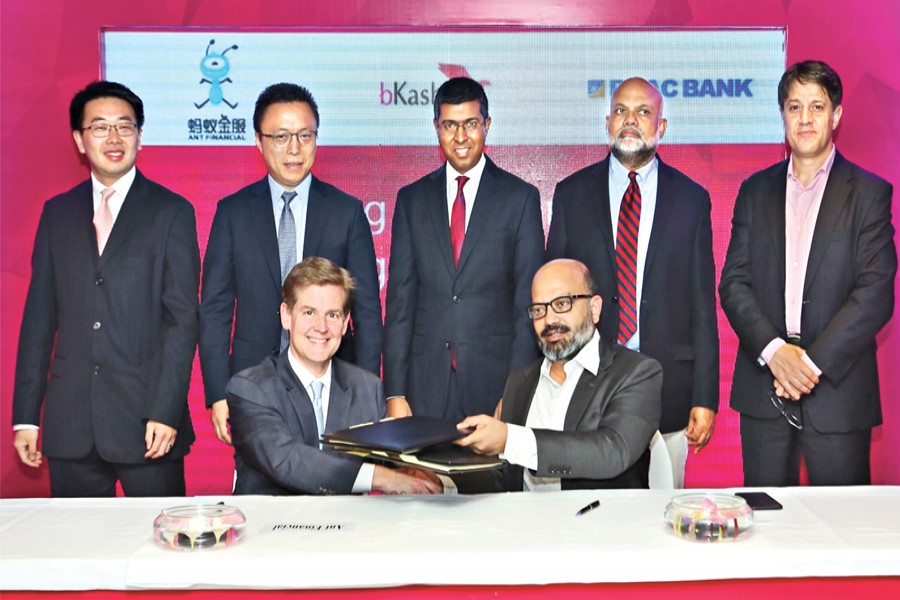 Kamal Quadir, Chief Executive Officer of bKash Ltd, and Douglas Feagin, Senior Vice President of Ant Financial, exchanging documents after signing an agreement on strategic partnership to promote financial inclusion of the unbanked in Bangladesh — Collected
Chinese digital payment giant Alipay operated by Alibaba affiliate Ant Financial expanded its footprint to hold a major share in the rapidly growing mobile banking market in Bangladesh.
The Ant Financial signed an agreement on Thursday to become the strategic partner of digital payment platform bKash, operated by Brac Bank.
As per the agreement, the company that is serving 800 million users globally will now secure 10 per cent share and another 10 per cent in the next one year.
As a strategic partner, it will help bKash grow its market further in a secured and diversified way with the technical capability and expertise the firm has.
Chief Executive Officer (CEO) of bKash Kamal Quadir and Senior Vice-President of Ant Financial Douglas Feagin signed the agreement at a city hotel.
At the signing ceremony, Kamal Quadir said alongside investment, Alipay will bring in best payment technologies and the knowledge of applying those to economies like China, which went through a massive transformation in recent years. Such track record makes Ant Financial a fitting partner for bKash. "This investment opens many new opportunities for bKash and demonstrate the confidence a world-class player is placing in Bangladesh," he said.
Sharing the common and similar goals of bringing equal opportunities to everyone in Bangladesh, Executive Chairman and CEO of Alipay Eric Jing said bKash can use the experience Alipay has built over the last one decade serving 800 million users together with its strategic partner worldwide.
"We're keen to share our technology know-how with partners like bKash. We are confident that we can bring highly secure and inclusive financial services to address the needs of local people and small business here," he said.
When asked about the share of the Chinese firm in bKash, Selim RF Hussain, Managing Director (MD) and CEO of Brac Bank, the mother company of bKash, said five shareholders own the leading mobile financial service provider in the country. "Brac Bank owns majority share (51 per cent) that won't be changed. Two other shareholders -- Money in Motion and IFC -- will sell their stakes to the Chinese firm. Now the Chinese company will have 10 per cent of share and another 10 per cent within a year," he said.
---
---
---
---