Speakers at a roundtable discussion suggested the government devise effective budgetary measures addressing inequality while boosting private investment.
They said the country is achieving consumption-based growth with higher public investments, but private investment remains stagnant.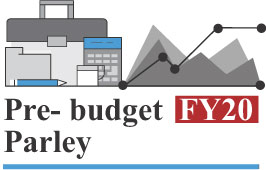 The views came Thursday at a discussion on the national budget for fiscal year 2019-20, arranged by the Institute of Chartered Accountants of Bangladesh (ICAB) and Prothom Alo in Dhaka.
National Board of Revenue (NBR) chairman Md Mosharraf Hossain Bhuiyan attended the programme as the chief guest.
In her speech, Center for Policy Dialogue (CPD) executive director Dr Fahmida Khatun said the number of unemployed youths is now increasing fast due to the lack of private investment.
"At 10.6 per cent, higher unemployment rate among youth population against the national level of 4.0 per cent is worrying for the country," she said.
She proposed introducing inheritance tax to reduce income equality.
Responding to the proposal, the NBR chairman said the introduction of the inheritance tax can be considered a good proposal.
Former adviser to the caretaker government Rasheda K Chowdhury proposed introducing education tax for developing the sector, especially primary education.
ICAB council member Md Shahadat Hossain said income inequality is increasing fast in Bangladesh according to the Gini coefficient.
Gini coefficient is an economic term to gauge income or wealth inequality on a scale of 0 to 1, in which 1 represents perfect inequality and 0 signifies perfect equality.
He said Gini coefficient for income inequality was 0.48 in 2018.
He said the richest 5.0 per cent of the households have become 121 times richer than the poorest 5.0 per cent in the last five years while the difference was 32 times five years ago.
"Excessive corruption, inflation, irregularities in banking system, higher indirect taxes are responsible for this increasing level of inequality," he said.
Former chairman of Bangladesh Securities and Exchange Commission Faruq Ahmad Siddiqi said inequality is increasing in the country due to poor base of direct taxes.
He also suggested the NBR cut discriminatory power of tax officials during auditing tax files and reduce harassment.
Mr Siddiqi also proposed making corporate tax rates simple and stopping reducing tax rates for listed companies.
"Currently there is a 10 per cent tax gap between non-listed and listed companies, but this incentive has failed to encourage companies to be listed in the capital market," he said.
He said there is no impact of the monetary and fiscal policy on the capital market as investors hardly get its benefit.
ICAB president AF Nesaruddin said only 1.25 per cent of the total population pays tax, which should be raised to help the country achieve a middle-income country status.
ICAB vice-president and chairman of Bangladesh House Building Finance Corporation Md Salim Uddin said that the rate of employment generation and poverty reduction was slower than that of economic growth.
Bangladesh Institute of International and Strategic Studies research director Mohammad Mahfuz Kabir recommended imposing specific duty on tobacco products including cigarette and reducing existing slabs.
Economists and experts in the discussion also proposed raising tax-free ceiling for individual taxpayers, offering tax exemption to help IT-enabled services grow, digitising income tax return submission process while developing import-substitute industry.
ICAB taxation and corporate law committee chairman Md Humayun Kabir conducted the session, where Bangladesh Association of Software and Information Services vice-president Mushfiqur Rahman, Former president of the ICAB Kamrul Abedin, ICAB member Raihan Shamsi, ICAB taxation and corporate law committee member Snehasish Barua, Bangladesh Merchant Bankers Association president Mohammad Nasir Uddin Chowdhury, among others, spoke.
doulot_akter@yahoo.com