---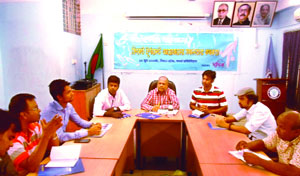 A roundtable on successful holding of Dokhina inter-varsity cricket tournament was held at the SUB in Chittagong recently.
A roundtable on Dokhina Inter-university Cricket tournament was held at the conference room of Southern University Bangladesh (SUB) in Chittagong recently, says a press release.
The founder of SUB Sarwar Jahan took the initiative to arrange the tournament. He delivered a special lecture on the occasion.   
Managerial editor of the monthly 'Dokhina' conducted the meeting. Md Shahariar of BGC Trust University, Pankaj of Premier University, Jasim of Cox's Bazar International University, Jahid of Independent University and employee of Divisional Sports Association Md Saifullah spoke on the occasion.
---
---
---