---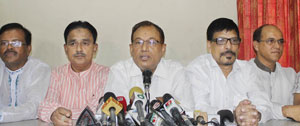 BNP international affairs secretary Asaduzzaman Ripon speaking at the press conference at the party's Naya Paltan central office in the city on Saturday. —Focus Bangla
Terming shameful the abduction of a Border Guard Bangladesh (BGB) member by Myanmar border force, BNP demanded of the government on Saturday to enhance the efficiency and capability of the force to stop recurrence of such incidents, report agencies.
"It's a matter of shame that Myanmar newspapers published a photo of BGB Nayek Abdur Razzak who was abducted by the border force of that country," said BNP spokesman Asaduzzaman Ripon.
"Our heads have hung in shame seeing the photo of handcuffed and lungi-wearing member of border guard of a nation which had forced over 90,000 members of Pakistani solders to surrender, carried out a big War of Liberation and built an independent Bangladesh," Mr Ripon said this while addressing a press briefing at BNP's Nayapaltan central office in the city.
Mr Ripon demanded the government immediately bring back the BGB Nayek through intensified diplomatic efforts.
He also asked the government to issue a strong warning to Myanmar so that they do not dare to repeat such an incident in the future.
Myanmar's Border Guard Police (BGP) opened fire on a Border Guard Bangladesh (BGB) patrol boat in Teknaf of Cox's Bazar district in the early hours of Wednesday.
A BGB sepoy, Biplob Kumar, suffered bullet wounds during the firing and another BGB member, Abdur Razzak, was abducted by the BGP. Abdur Razzak is yet to be released by the BGP.
Meanwhile, BNP alleged on Saturday that the prices of essentials are shooting up for lack of strong market monitoring by the government.
"The prices of essentials are skyrocketing. The government is not properly monitoring the market. The prices of the essentials would not have hiked in such a way had the government been active in monitoring the market well before Ramadan," said BNP spokesman Asaduzzaman Ripon.
He brought the allegation at a press briefing at the party's Nayapaltan central office in the city.
The BNP leader urged the government to be active in controlling the surging prices and assuaging the sufferings of people.
Mentioning that the Commerce Minister assured people that they would strongly arrest the price hike during Ramadan, Ripon said the minister failed to live up to his promise.