---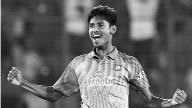 Indian team management was apparently ready to demonstrate its power once again if Bangladeshi pace star Mustafizur Rahman had not been fined at collision hearing.
An analysis of the influential Indian daily Hindustan Times indicated that Mustafizur Rahman was fined to appease Indian team management and MS Dhoni, reports UNB.
"Once Pycroft announced that Dhoni and Rahman had been fined 75 percent and 50 percent of their match fees respectively, the Indian management decided not to pursue the matter further.
 "Had Rahman not been punished we would have lodged an appeal, but now it's fine," the Indian daily reported quoting an unidentified source.  The Indian team management was braced to lodge an appeal with the International Cricket Council (ICC) if only MS Dhoni was penalised at the hearing with ICC match referee Andy Pycroft on Friday.
 According to a source, both on-field umpires Rod Tucker and Enamul Haque had written in their report that the Indian captain had got involved in a deliberate and inappropriate physical contact with Mustafizur Rahman. Initially, the report was only against Dhoni.  The same had been relayed to the Indian management at around 1am when the team returned to their hotel after losing to Bangladesh in the first ODI.
---
---
---