---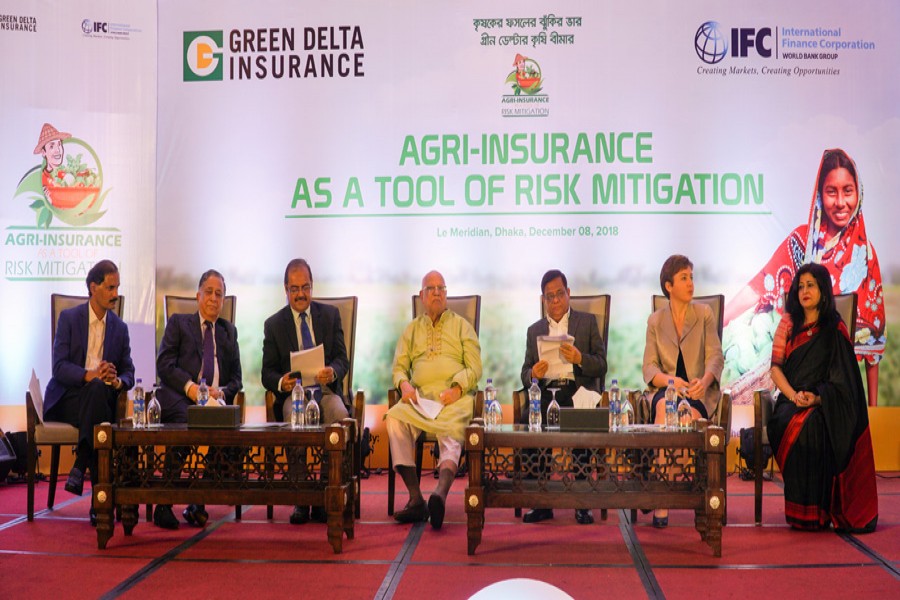 Finance minister AMA Muhith, financial institutions division secretary Ashadul Islam, IDRA chairman Shafiqur Rahman Patwary, WB Group senior financial sector specialist Vijaysekar Kalavakonda, IFC country manager for Bangladesh, Bhutan and Nepal Wendy Warner, Green Delta Advisor Nasir A Choudhury and its CEO Farzana Chowdhury seen in the workshop held on Saturday
Insured farmers invest more while their income increases by 20 to 30 per cent, a global research has found.
The agriculture insurance works as a safety net mechanism for farmers. But Bangladesh lags behind in attracting people under insurance coverage while agri insurance seems to be the most peculiar type since insurance itself is a urban phenomenon, experts told a programme on Saturday.
Globally agriculture insurance is the fastest growing industry after health insurance, experts said.
The loss of agriculture productivity and sufferings of the most climate vulnerable countries like Bangladesh has multiplied in recent years due to adverse impact of climate change in agriculture sector.
In last 40 years, the country lost US$ 12 billion or 0.5 per cent to 1.0 per cent of GDP due to uncertainty in weather.
These were revealed during a workshop on agri insurance, arranged by Green Delta Insurance Company Ltd and International Finance Corporation (IFC) of the World Bank Group.
The event was organised by Green Delta Insurance Company and IFC at a city hotel.
Green Delta Insurance Company with support of IFC has implemented a pilot agri insurance project in eight districts for the past three years.
The pilot project began in 2015 and got implemented in 2016 in eight districts. Now there are 10,000 farmers under risk mitigation coverage.
Green Delta hopes to reach over two million farmers by 2030.
Finance minister AMA Muhith was present as the chief guest. Financial institutions division secretary Ashadul Islam, Insurance Development and Regulatory Authority chairman Shafiqur Rahman Patwary and WB Group senior financial sector specialist Vijaysekar Kalavakonda were present as the special guests.
In her speech, IFC country manager for Bangladesh, Bhutan and Nepal Wendy Warner said a global research conducted by University of California showed that insured farmers invest more reducing the risk of things like weather, while increasing their investment and income by 20 to 30 per cent.
Delivering better income and productivity is our primary target of this project. The project has focused on climate vulnerable communities while farmers are our key target priority," she said.
Me Vijaysekar said globally agri Insurance has been growing exponentially ranking second fastest growing industry after health insurance due to three main reasons. These are- significant increase in vulnerability, low agri loan by the financial institutions and safety mechanism as thought by the government.
The premium for agriculture insurance is comparatively higher as it has greater risk, he said. That's why the government plays the key role in promoting agri insurance by providing premium subsidies to farmers, he added.
It is a global practice that agri insurance is largely promoted through public private partnership. But Bangladesh is an exception as the private sector is taking the lead to bring the farmers under risk coverage, said the insurance expert.
AMA Muhith said insurance is there mainly for risk mitigation. In this country insurance is a very flourishing industry, he added.
The government has been trying to reduce adverse impact of climate change on agriculture, said Muhith. But the success rate is very limited.
If the pilot project of Green Delta and IFC is successful and can be projected to other areas , it will be a big step in agri insurance sector, he added.
Citing the WB experts' observation that agri insurance is highly subsidised, Ashadul Islam proposed that international community should provide financial support from the climate financing as Bangladesh is one of the 10 most climate vulnerable countries.
Green Delta should consider how agri insurance can be made affordable and easily understandable to the farmers, he added. The government will consider some strategies after seeing the results of the pilot project, he said.
IDRA chairman Shafiqur Rahman said the Insurance sector has not developed in Bangladesh at the expected level due to the image crisis of the insurance companies and lack of confidence and awareness of people. Besides it is not mentioned specifically which ministry will control the sector. Agri insurance involves high transaction cost and moral hazard which kept the companies away from this product, he added.
Green Delta Insurance Company's chief executive officer Farzana Chowdhury said that insurance has always been an area where people do not have confidence. The main problem is lack of awareness.
" One of our main task is to create awareness and build confidence. We are trying to promote that insurance is not a liability rather it is a support," she said.