---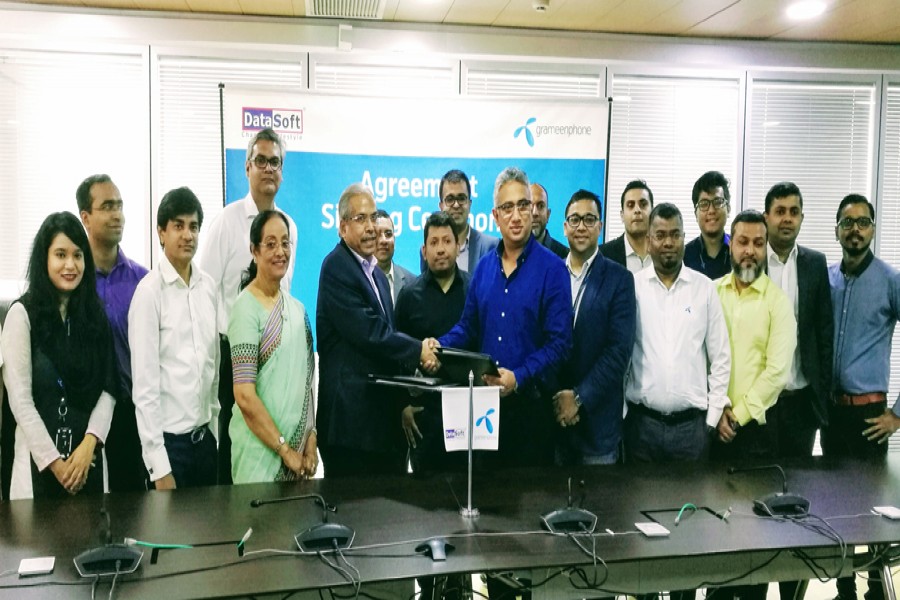 Deputy CEO and CMO of Grameenphone Yasir Azman and Managing Director of DataSoft Mahboob Zaman exchanging documents after signing the MoU on behalf of their respective companies at the corporate headquarters of Grameenphone "GPHouse" in Bashundhara recently
To further accelerate the adoption of Internet of Things (IoT) in Bangladesh, Grameenphone and DataSoft have signed a Memorandum of Understanding (MoU).
It will help develop comprehensive IoT solutions for businesses that will leverage both DataSoft's IoT application development capabilities and Grameenphone's M2M Connectivity Plan and managed IoT Platform, according to a statement.
The MoU signing ceremony was held at the corporate headquarters of Grameenphone "GPHouse" in Bashundhara recently.
The 'connected revolution' has the potential to enable an efficient use of scarce resources, automate routine manual tasks, and improve decision-making across sectors such as utilities, manufacturing, automotive, transportation,and logistics, to name a few.
Grameenphone's Deputy CEO and CMO Yasir Azman said, "In collaboration with DataSoft, we aim to offer innovative IoT solutions comprising connectivity, application, end-to-end device management and support services, making it easy for businesses to embark on their digital journey."
"The strategic partnership between these two technology leaders will help enhance IoT adoption by businesses in Bangladesh by providing solutions that leverage the latest in technologies including Cloud, Analytics, and IoT," said Mahboob Zaman, Managing Director of DataSoft.
Grameenphone Ltd has recently launched "Grameenphone M2M Plan" - a comprehensive connectivity solution for IoT applications comprised of data packs, industrial SIM cards, and device management portal and security add-ons.
Founded in 1998, DataSoft Systems Bangladesh Limited is the first ISO 9001:2008 certified Software Company of Bangladesh. The company has a state-of-the-art IoT Lab facility with an active IoT Resource Development programme with 300 trainees in collaboration with the University of Columbia, USA.