---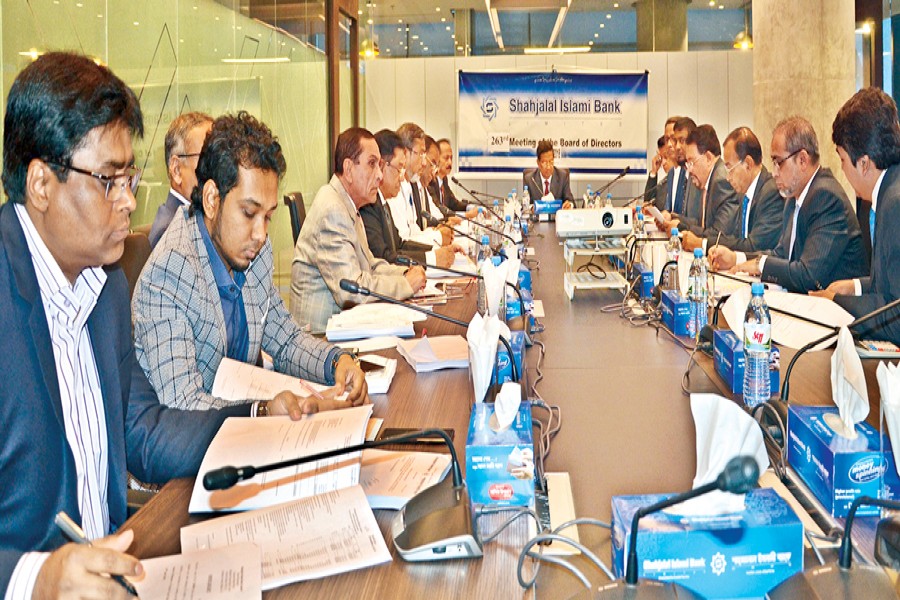 Shahjalal Islami Bank Limited (SJIBL) Chairman Akkas Uddin Mollah presiding over the 263rd meeting of the bank's board of directors at its head office in the city recently, while the board members and top executives of the bank were present
The board of directors of Shahjalal Islami Bank Limited (SJIBL) has decided to issue 2nd Mudaraba Subordinated Bond (redeemable) of Tk 6.0 billion to strengthen Tier II capital of the bank as per requirement under Basel III.
The name and style of the bond is "SJIBL 2nd Mudaraba Subordinated Bond" and would be issued for a period of seven years through private placement, according to a disclosure posted on the Dhaka Stock Exchange (DSE) website on Thursday.
The issuance of the bond is subject to approval by the regulatory authorities like Bangladesh Bank (BB), Bangladesh Securities and Exchange Commission (BSEC) and compliance of all formalities in this respect, the disclosure said.
The board of directors of the bank has also recommended 10 per cent stock dividend for the year ended on December 31, 2017, said another disclosure.
Approval of the dividend will come during the AGM scheduled to be held on July 08 in Dhaka. The record date is on May 31.
The bank has also reported consolidated earnings per share (EPS) of Tk 1.74, consolidated net asset value (NAV) per share of Tk 17.65 and consolidated net operating cash flow per share (NOCFPS) of Tk 2.75 for the year ended on December 31, 2017 as against Tk 2.15, Tk 16.86 and Tk 5.12 respectively for the same period of the previous year.
In 2016, the bank disbursed 15 per cent cash and 5.0 per cent stock dividend.
There will be no price limit on the trading of the shares of the bank on Sunday (April 30), following its corporate declaration.
Each share of the bank, which was listed on the Dhaka bourse in 2007, closed at Tk 28.40 on Thursday, registering an increase of 4.80 per cent over the previous day.
The bank's paid-up capital is Tk 7.71 billion and authorised capital is Tk 10 billion while the total number of securities is 771.42 million.
The sponsor-directors own 46.13 per cent stake in the bank while the institutional investors 17.62 per cent, foreign 0.23 per cent and the general public 36.02 per cent as on March 31, 2018, the DSE data shows.
The bank also disclosed first quarter earnings results on the day. As per un-audited Q1 earnings results, the consolidated earnings per share (EPS) stood at Tk 0.40 for January-March quarter of 2018 as against Tk 0.49 for January-March 2017.