---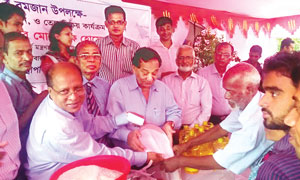 CMCCI president Khalilur Rahman on Saturday opened the sale of essential items at subsided price for the poor and needy in front of the Chittagong chamber in the port city.
CHITTAGONG, Jun 20: Chittagong Metropolitan Chamber of Commerce and Industry has launched month-long sales outlets in the city's Agrabad and Oxygen intersection for the Ramadan month.
President of the CMCCI Khalilur Rahman inaugurated the outlets by selling three consumer goods at a subsidised price targetting the poor of the port city. They are selling rice at Tk 20 per kg, sugar at Tk 30 per kg and soybean oil at Tk 170 per two-litre bottle.
Each person will get five kg of rice, two kg of sugar and two litres of soybean oil per day.
Mr Rahman said they have been selling the items to the poor of the city at the subsidised rate in every Ramadan month for the last six years. The items are being sold as part of social responsibility of the businesses enlisted with the CMCCI. CMCCI vice president Alihussain Akberali, AM Mahbub Chowdhury and director Aminuzzaman Bhuiyan were present on the occasion.
---
---
---