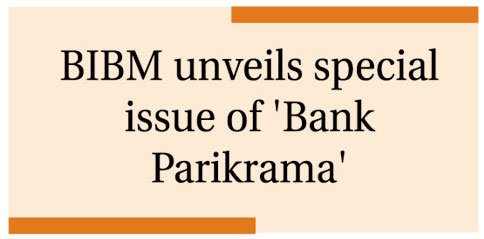 Bangladesh still has a long way to go to accomplish the vision of 'Sonar Bangla' or the Golden Bangla, as dreamt of by Bangabandhu, economic analysts said.
They regretted that corruption has been a major cause for concern in the nation's development journey.
They made the observations at a virtual programme on Wednesday where the Bangladesh Institute of Bank Management (BIBM) unveiled a special issue of 'Bank Parikrama' marking the Birth Centenary of the Father of Nation Bangabandhu Sheikh Mujibur Rahman.
"Sonar Bangla means there will no deficiency in fulfillment of basic needs for everyone, no widening income gap, no opportunity gap in employment and education, no social discrimination, and poverty reduction, and a corruption-free society," said Dr Matiur Rahman, a JPMorgan Chase Endowed Professor of Finance at McNeese State University, US.
Chaired by BIBM Director General Dr Md Akhtaruzzaman, Bangladesh Bank (BB) Governor Fazle Kabir addressed the event as the chief guest while BIBM Professor (Selection Grade) Dr Prashanta Kumar Banerjee delivered the welcome address.
Former BB governors Dr Mohammed Farashuddin and Dr Atiur Rahman, former vice chancellor of Bangladesh Agricultural University (BAU) MA Sattar Mandal, former vice chancellor of Jahangirnagar University Professor Abdul Bayes, former professor of Dhaka University Dr Syed Manzoorul Islam, and BB Deputy Governor Ahmed Jamal also spoke as designated discussants at the programme.
Referring to his article published in the Bank Parikrama titled "Role of Banking Services in Building Sonar Bangla: Some Progress, Pitfalls and Prescription", Dr Matiur said it is almost impossible to stop corruption as a culture of corruption has developed in the country which has to be dealt with effectively.
He said, "Unless everybody responsibly performs their respective duties, the government can't alone control corruption."
It is a human tendency to materially thrive with corruption in the legal and regulatory system as there are a lot of grey areas where unethical people will take advantage, he added.
He, also a former central bank official, said despite the progress Bangladesh had made in the banking sector and the economy, still there are lots of problems by which the banking sector is infected.
"We have developed a culture of loan default, loan rescheduling, and write-off loans which has become very messy in the public sector banks compared to the private sector banks."
The social cost of write-off loans is very high because it takes away the resources from productive investment in education, health and social advancement, he added.
Referring to the high concentration of loans on a few mega borrowers, Dr Matiur raised questions about proper assessment of a borrower's eligibility of getting loans by lenders.
"In my view, there is a lack of sincere efforts to this end, and without proper assessment of loan eligibility of a borrower, it's a serious mistake (to give a loan)," he said.
Mentioning that the vision of Bangabandhu has brought the country this far, Dr Farashuddin said despite all the achievements, the country has to go a long way.
Referring to the policy implications of 'Five-Year' plans of the country, he said, "Policymakers should use the term 'poverty reduction', like the United Nations (UN), in the five year plans instead of 'poverty alleviation' because there is clear difference between the terms."
Besides, development of rural economy should be in the forefront of the development agenda as emphasised by Bangabandhu, he said.
Meanwhile, Dr Bayes said around one-third of the rural population borrow from the 'mohajon' (bond holders) while 40 to 50 per cent receive loans through NGOs and only around 10 per cent get loans from government sources.
"These people are still exploited by the mohajans while there are scopes of exploitations in getting loans from NGOs due to higher interest rates compared to banking channels," he said.
From this point of view, ensuring rural people's access to easy finance is still a long shot, he opined.
BB Governor Fazle Kabir said that Bangabandhu made the financial sector the cornerstone of his national policy between 1972 and 1975.
"Although Bangabandhu was not an academic economist, his deep understanding about the real status of our economy as well as the financial condition of the masses made him a great practical economist and a real mentor of the economy as well as the financial sector," he said.
Dr Atiur said the central bank needs to work a lot to deal with the changed economic reality induced by the adverse effects of climate change which have already been visible around the world.
Climate change issues should focus on economic policies so that the impact of it (climate change) can be mitigated, he suggested.
The former BB governor also emphasised innovative digital banking and financial services for financial inclusion of rural people and individuals out of the reach of conventional banking.
BIBM published the special issue of the quarterly journal 'Bank Parikrama,' a flagship publication containing 10 articles of eminent economists, academics, bankers and researchers of the country.